Welcome :)
I 'Heart' Valentines day. So of course that means taking photos of my boys ;) This particular year, I used heart suckers as a prop (and I'm not above a little bribery too) to get them to sit for some valentines day photos! ha ha. This layout showcases some of the good, the bad, the sweet and of course the silly: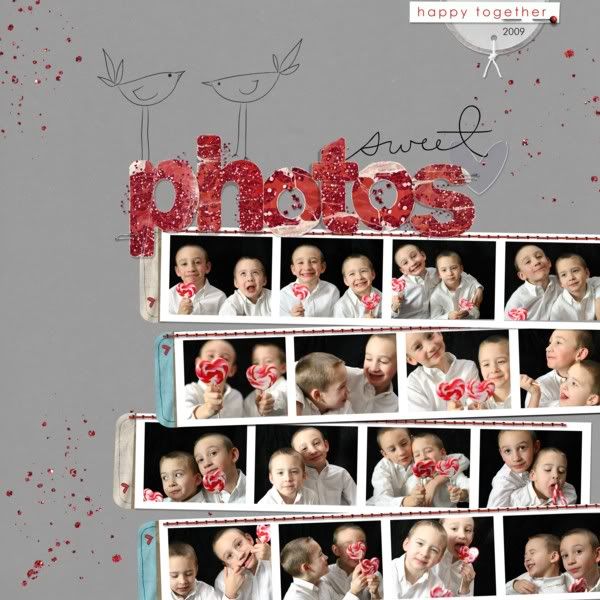 I used some of my most favorite go to supplies on this layout!
What are my go to supplies for my digital pages you ask!? Well, let me tell you ;)
Photos
, and lots of them!! I am predominately a multi-photo scrapper!
Templates
: (especially ones by
ChrissyW
)
Word art
: how perfect are
these Smoochy stamps by Lauren Reid
! love them :)
Stitching
: gotta have stitching! For this layout I used
Tia Bennetts spool of stitches
Alphas
: my new favorite are these red sparkly ones by
Dianne Rigdon Find Joy Alpha
Staples
: The ones I used on this particular layout are from
Erica Hernandez' Twenty Eleven calendar kit
(I could use that kit on every single layout of mine...just sayin ;)
Thank you for visiting our Two Peas DCT Blog Hop! Please leave a comment for a chance to win a $10 gift certificate to Two Peas In a Bucket! Comments will be open until Sunday, February 13th. We'll draw two random winners from all comments on each Creative Team Members blog:
Laura:
http://www.itsallrosie.blogspot.com/
Joscie:
http://www.cutchens.com/
Celeste:
http://www.celestefs.blogspot.com/
Kathy:
http://www.card-blanc.blogspot.com/
Mary Jo:
http://www.maryjojohnston.blogspot.com
Mary:
http://justus-photographyanddigistuff.blogspot.com/
Kelly:
http://kellymobley.blogspot.com
*One comment per blog, please. Post to as many blogs as you like!*
*************************************************************
DCT Blog Hop winners have been announced!!!

True Random Number Generator Has Picked:
Comment 85: Deirdre at 5:46am / FROM KELLY'S BLOG
AND
Comment 74: Suzanne at 1:16pm / FROM MARY'S BLOG

Thanks everyone for all the wonderful comments :)